Nalanda University was renowned mahavihara (Buddhist monastic University) in ancient Magadha, eastern India. It is the world first residential University and greatest center of learning in ancient world. It is located near the city of Rajgrih (Rajgir) and approx. 80 km southeast of Patliputra , now it is Patna. In this article, we will discuss about the History of Nalanda University in detail, and we will also discuss how to visit here. let's started….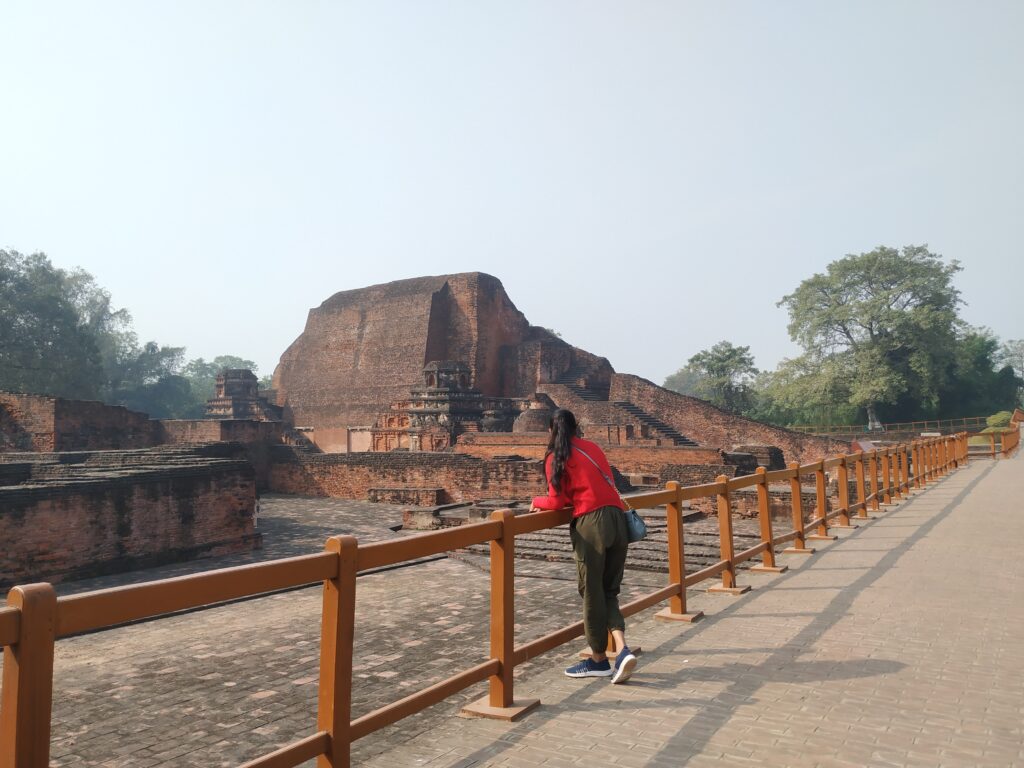 Table of Contents
When and who found Nalanda university ?
It is founded in 427 BCE by Kumar Gupta of Gupta dynasty with the support of some Indian and Japanese patrons where Vedas, logic, Grammer, Medicine, Meta-physics, Prase composition and Rhetoric was taught. This University destroyed three times by different invader but rebuild only two times.
first time Nalanda university was founded by KumarGupt I of gupta dynesty in 5th centuryCE
it was patronized by various king Harshavardhana of Kannauj (7th century CE) and the Pala rulers (8th -12th century CE)
When and who destroyed Nalanda university?
He destroyed Centre of education Nalanda university and kill many monks, students and teachers, burnt each and everything of this university and lotted all costly items in 1197 BCE by Bakhtiyar Khilji, general of Qutubuddin Aybak for very silly reason that I will discuss in detail on this blog.
Now it became tourist attraction where people from other country came to visit here to see the ruins of the University.
This University was destroyed three times by different invaders.
The first deduction was caused by the Huns under the reign of Mihirakula.
2nd destruction came under during the 7th century by the Goudas.
3rd was the ransacked and destroyed by an army of the mamluk dynasty of the Delhi sultanate under Bakhtiyar Khilji in 1197 BCE
History of Nalanda University
Nalanda University was one of the first residential university in the world, where students come from China, Russia, Tibet, Korea, Japan, Indonesia and Myanmar. It was founded in 5th century BC. At 7th century AD, this university was on it's peak and it held 10000 students and 2000 teachers of different subjects that time it was visited by Chinese scholar Xuan Zang.
This university was considered an architectural masterpiece and was marked by a lofty wall and one Main entrance. Nalanda had eight separate compounds and ten temples along with many others meditation halls and classroom. On the grounds, there was lakes and parks. The library was located in nine stories building where meticulous copies of texts were produced.
In Nalanda university many subjects were being taught that covered every field of learning and it attracted pupils and scholars from Korea, Japan, China, Tibet, Indonesia, Persia and turkey. During the period of Harsha, the monastery is reported to have owned 200 village given as grants.
Historical studies indicate that, The Nalanda University was established during the reign of Gupta Empire (Kumar Gupta). Both Xuan Zang and Prajñavarman confirm him as a founder of this University.
The library of Nalanda university known as "Dharma-Gunj"(mountain of truth). It is said that Library of this university contain hundreds of thousands volume. This library had 3 main building: 9 stories tall. So, when Muslim invader set aflame, it burnt for months.
In this university, Courses were drawn from every field of learning, Buddhist and Hindu, sacred and secular, Foreign and native. Students' studies science, astronomy, medicine and logic as diligently as the applied themselves to Metaphysics, philosophy, Samkhya, Yog shastra, The Vedas and the scriptures of Buddhism.
Still many parts of this university are not found even main entrance did not find. so archeological survey of India made an alternate way to enter in this university. It is believed that the whole University campus is spread across over 15,000,000 sq meters and only 10% of which has been excavated while the rest of the ruins still lie under the ground.
Why Bakhtiyar Khilji destroy Nalanda University?
There are many stories on destruction of Nalanda University.
(i) once upon a time Bakhtiyar Khilji have suffered from a very high fever and Hakims of his court were not able to cure him. Then someone suggested him to go to Ayurveda scholar acharya Rahul shri Bhadra. Because that time He was the HOD of Ayurveda department of Nalanda University but when they call him, firstly he was not ready to treat him but after more request of Khilji. Acharya Rahul shri Bhadra treat him and cure from the diseases.
Khilji got fit but he didn't digest that other teacher and Indian scholars knew more than his Hakims and countryman. That's why Khilji decided to destroy all the sources of knowledge from where Indian scholar gain knowledge. So, he ordered his soldiers to put Nalanda University in fire.
(ii) Another story is when Bakhtiyar Khilji visit Nalanda University, He visit each and everywhere in the university, but he didn't get any holy book Quran. As he is a Kattar Muslim, and he didn't get his holy book there. So, he ordered his soldiers to put Nalanda University in fire.
Diary of Huan Xuan Zang : Source of knowledge about Nalanda University
Mainly there were always two sources of ancient knowledge about any architecture.
Manuscript: – Written by any great scholar
Traveller: – Who visited site and write about it somewhere.
People know about Nalanda University with the help of diary of Huan Xuan Zang. Otherwise, there is nothing in the History that can be a source of knowledge of this University. Before 1915, There was nothing there in Nalanda like Nalanda University but when British started searching of ancient monuments. He found some bricks, further it is said that it is a place where Nalanda University was there.
The site was first discovered reported by Sir Francis Buchanan. This site was systematically excavated and consolidated by archeological survey of India from 1915 to 1937 and again from 1974 to 1982.British started excavation because of diary of Huen Xuan Zang. He wrote each and every thing about his visit in India and Nalanda University.
Important point that xuanzang discussed in his diary.
Praised emperor Harshavardhan and his administration very much.
Harshavardhan spend his 3/4th of the state-income for religious purposes.
According to his diary, Ancient Nalanda university contains 8 separate compound which contains 35-40 individuals' room, 10 temples many meditations hall, guest room, classroom and playground.
Two statue of lord Buddha was established on the front of the gate of each compound but now it is not available.
He told about his personal room that it has a seperate meditation room and on the left side of his room there is a temple.
He describes that there is no lock and key system in that library because all person was honest and humble.
Student from differnt location like china, korea, japan, russia, indonasia came here to gain knowledge.
This university contain 10,000 students, 2000 teachers at a time.
Huen Xuan Zang's visit (630 BC – 643 BC)

Huian Tsang or Xuan Zang was a Chinese Buddhist monk who travel from China to India during the reign of king Harshavardhan to obtain Buddhist scripture.

Between 630 and 643 BCE, Xuan Zang travelled throughout India. He stayed at Nalanda twice and for total of around two years. Nalanda greeted him with open arms where he was taught by the famous institution's then master Shilabhadra and given the Indian name Moksha deva. He assumed that his difficult overland journey to India had succeeded in achieving its goal because in Shilabhadra, He had finally found an exceptional teacher who could instruct him in Yog Acharya, a school of philosophy that had only recently been fully transferred to China. The monk studied Buddhism and also took Courses in language, logic and Sanskrit.

later, he also gave lectures and mahavihara. Hiusen Tsang or Xuan Zang is said to have visited Nalanda in 7th century. He was a Buddhist monk scholars and Travellers who described the interaction between Indian Buddhism and Chinese Buddhism.
How to visit Ancient Nalanda University
As i have told you that Ancient Nalanda University is located in Nalanda district of Bihar. It's Nearest railway station is Rajgir Railway Station. It is 15 km from Rajgir Railway Station and approx. 80km from Patna Junction.
This place is well connected to other district of Bihar by Road and Train. Many local and luxury trains and Bus directly move toward Nalanda .
Some train From Patna to Ancient Nalanda University:-
Shramjeevi SF Express-Patna junction (0715) to Nalanda (0926)
Rajgir Special Fare Special-Patna junction (0920) to Nalanda (1129)
Danapur-Tilaiya Passenger Special-Patna junction (0930) to Nalanda (1239)
Rajgir MEMU Express Special-Patna junction(0650) to Nalanda(0948)
Budhpurnima Express-Patna junction (0330) to Rajgir (0600)
.
Best Time to Visit Nalanda University
most of the people visit this place in winter season because that time he can wonder for a long time and specially on the shower of sunlight.
It is very Near to Rajgir that is known as the holy place for Hindu, Muslim, Sikh, Bodhism and Jain. There are many places to visit in Rajgir and Nalanda and in winter season they can easily visit all the places. So people like to visit here in winter season.
For ticket booking and to know more about Ancient Nalanda university https://nalandauniv.edu.in/
| | |
| --- | --- |
| Location | Nalanda District |
| Year of establishment | 427 BCE |
| Year of Abandonment | 1197 BCE |
| Area | 30 Acres |
| Status | UNESCO World Heritage Site |
| Maintain by | archeological survey of India |
| Timing | 0900 to 1700; Every day |
| Entry Fee | Free for children below 15 years old |
| | Rs 15 for Indians, SAARC and BIMSTEC citizens |
| | Rs 200 for foreigners |
| Videography Fee | Rs 25 |
To know more about Rajgir read this article.https://indiatravelsolutions.com/?p=238&preview=true
To know about Bihar visit to below linkhttps://indiatravelsolutions.com/visiting-place-in-bihar/
top visiting places in Patna https://indiatravelsolutions.com/tourist-places-in-patna/