In this article we will discuss all about Gandhi maidan Patna. This place is holding a historical significance and witness of many historical events. It is a place that full-fill the requirement of every person. This place is a sports ground for players, visiting place for Travellers, heaven for couples, oxygen cylinder for patients, Auditorium for political party and Earning source for Businessmen. It has its own history that is very important to know. So, tighten your sit belt to start journey with us to the most attractive and Historical place in Patna.
Introduction
Gandhi maidan Patna is located near the holy river Ganga. It is a center of Patna and spread in 60 acres. In past, it was known as Patna lawns or bankipore Ground but After independence in 1948, after one year of assassination of mahatma Gandhi, this lawn was renamed as Gandhi maidan as a tribute before the first anniversary of Independence Day. \
This place is surrounded by many famous places. Golghar, Marine drive, Gandhi sanghryalaya, Shree Krishna science center, there are many events organized here and there are many famous political leaders started his journey from here. This place is very crowded all the time even in the night. There are many categories of people who used to live here like student, salary employed person, labour, businessmen who spend their quality life here to reduce his stress.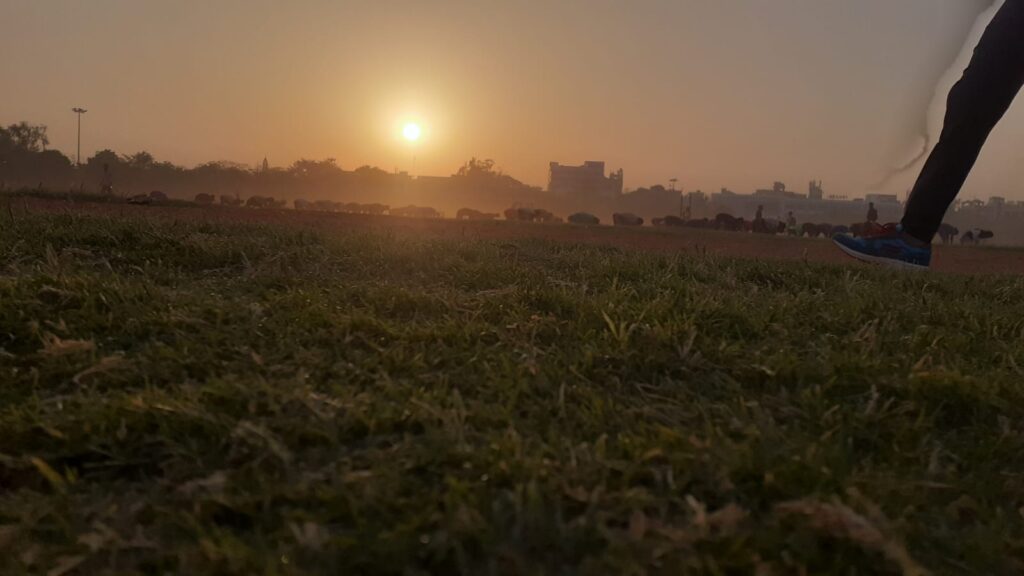 Table of Contents
History of Gandhi maidan
Actually, Gandhi maidan is situated at this place since the time of British India. That time it was known as Patna lawns. It is acquired over 60 acres of land. In the time of British India, it was used as a golf ground and horse-riding track from 1824 to 1833. In British era, it was open for the family of British, but it was accessible for Indian when Gandhi maidan became the epicenter of India freedom movement. It has a great political significance as well that is mentioned in the below paragraphs.
Political significance
There are many political leaders who started their journey from here. Gandhi maidan is also witness of many famous movements. Several freedom movements were launched on this place during the Indian freedom struggle. Some most famous movements are Champaran movement and quit India movement of 1942 was launched from this platform. Many famous rallies of the political party are organized here because it had a huge space that can hold a large pullulation. Some famous leaders who completed his rally here is our father of the nation Mohan das Karamchand Gandhi, first prime minister pandit Jawahar Lal Nehru, First president DR Rajendra prasad Anugrah Narayan Sinha, Sardar Patel, Jaya Prakash Narayan, Shri Krishna Sinha and Maulana Azad.
In past, It was known as Patna lawns and Bankipore maidan but presently it is known as Gandhi maidan. After assassination of Mahatma Gandhi Patna lawns is converted to Gandhi maidan as a tribute of Mahatma Gandhi.
Sculpture of Mahatma Gandhi
A tallest bronze statue of mahatma Gandhi is located on the western end of Gandhi maidan. it is just close to the St. Xaviar's school, Patna Near gate no 2 of Gandhi maidan Patna.
A statue of Mahatma Gandhi is also erect here in 1990 near the southern end as a tribute. It is a world tallest bronze statue of Mahatma Gandhi. Sculpture shows, Mahatma Gandhi is standing with two children.
This statue of Mahatma Gandhi is the tallest bronze statue in the world. It is 72 feet (22 m) tall including it base. Its base is 24 feet tall (7.3 m) It is sculptured by Ram sutur's firm. Its total cost is 35 crores. It was inaugurated by then chief minister Nitish Kumar on 15 February 2013.
It is a place where many people visit to see the beauty of Gandhi maidan Patna. It the center of Patna. So, every type of shop, restaurant, movie hall and other amenity is available here.
Some famous historical events of Gandhi maidan Patna
Quit India movement of 1942 was launched in Patna Gandhi maidan in which a large number of people took part and make it success.
Champaran satyagraha in 1917 was launched from this ground, this was the first time when Indian entered in Patna lawns without any restrictions.
On 27oct 2013. A series of six bomb blasts in the Rally of Shri Narendra Modi before the becoming the prime minister of India.
Every year, A big mela is organized in the campus of Gandhi maidan in which many types of Jhula, Street food, and hand craft stall is opened.
Pushtak Mela, people who love to read book, He have to come in this mela. Here Varity of book is available at different book stall.
This place is a witness of the speech of Governer of Bihar and Chief minister of Bihar during Republic Day and independence day.
Events organized in Gandhi maidan Patna.
There are many events that are organized here because its area is very large, and it can hold a large crowd in one ground. Such events are organized that are mentioned below.
| | |
| --- | --- |
| SL No. | Name of events |
| 1. | Ravan vadh |
| 2. | Dijni land |
| 3. | Pushtak mela |
| 4. | Republic day celebration |
| 5. | Independence Day celebration |
| 6. | Rally of politician |
| 7. | Book fair |
| 8. | Bihar Diwas Samarah |
| 9. | Food fair |
| 10. | Sports tournaments |
The best event that is regularly organized in Gandhi maidan is Rawan Wadh. On the 10th day of Durga puja, Gandhi maidan is ready to demolish and put the statue of Rawan into fire. On this occasion, A huge crowd visit this place and 60 acres of Gandhi maidan has filled with the different types of people.
Connectivity
Gandhi maidan Patna is well connected to all over Patna. It is a old place of patna. So many famous places is situated besides it. Gandhi maidan is surrounded by road that is connected to the different location that are mentioned below.
It is directly connected to Patna junction and Patna junction is just 1.9 km.
One road is directly connected to Ahok Rajpath that is connected to Patna city.
On the west the Gandhi maidan, marine drive and boring road is directly connected.
Visiting place in Patna near Gandhi maidan
Golghar
Shri Krishna science centre
Biskoman Bhawan
Marine drive
Kargil chok
City centre mall
Gandhi museum
Mona hall
Sabhyta dwar
Bronze statue of Mahatma Gandhi
Best hotels in Patna near Gandhi maidan.
| | | | |
| --- | --- | --- | --- |
| SL No. | Name | Rating | Price (Rs) per day |
| 1. | Hotel Maurya | 4.3 | 5500 |
| 2. | Hotel panache | 4.3 | 4100 |
| 3. | Hotel QiK Stay at Maurya | 4.4 | 7010 |
| 4. | Hotel Gargee grand | 4.1 | 2500 |
| 5. | Lemon Tree Premier, Patna | 4.1 | 5000 |
| 6. | Oyo Hotel Trisha | 3.3 | 2515 |
| 7. | Hotel mapple inn | 3.3 | 1300 |
| 8. | Republic Hotel | 4.0 | 2522 |
| 9. | Pallavi international Hotel | 4.4 | 2000 |
| 10. | Oyo 4050 Hotel Relax inn. | 4.1 | 2012 |
| 11. | Flagship hotel embassy | 3.3 | 913 |
Price of hotels may varry according to the seasons
Best restaurant in patna near Gandhi maidan
| | | |
| --- | --- | --- |
| SL No. | Name | Rating |
| 1. | Raj Rasoi | 3.8 |
| 2. | Dosa plaza | 3.5 |
| 3. | Pind the revolving Restaurant | 4.0 |
| 4. | Berco's | 4.1 |
| 5. | Masala Junction | 3.2 |
| 6. | Bollywood treats | 4.0 |
| 7. | Mc Donald | 4.1 |
| 8. | Biryani mail | 3.5 |
| 9. | Sanmit | 4.2 |
| 10. | Kapil dev eleven's | 4.2 |
Movie hall in Patna near Gandhi maidan
My opinion
I am from Patna. So, i know this place since childhood. i used to visit this place when i was in class 12th to get rid of myself from my stress. when i was going there, i saw many types of people there like some student came here to do group study, some athelite went there do do his practice, some couple went there to spend their quality time, some people went there to see the beauty of Historical Gandhi maidan.
Yesterday i visited in the Gandhi maidan where i saw many people was watching matching on big screen while spending their time with love one. Besides this ground, there are many governmental buildings that provides a large number of job to the people and many government office are established in this buinding.
This place is going to be blessed with metro. Metro work is going on and in future it will be the busiest metro station of Patna. Students who don't have more money to purchase new book, they can come here because many secondhand bookstores is available here that provide book at low cost.
If you want to know more about Patna Tap here
If you want to know more about Bihar Tap here
If you want to know about Rajgir Tap here